Meme Generator
Create custom Memes fastly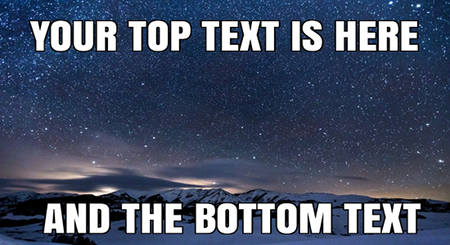 A lot of methods are available on Picfont to create fun Motivational memes, here is one of them.
Select START THE MEME GENERATOR
Then Upload your own photo or use a photo from gallery
Start to modify top,middle and bottom text
Save result
You can customize the font color, outline color, or add a shadow... You can also add a filters to picture, or fun icons (smileys...).
Just save result to share it with your Friends on Instagram, Facebook, Twitter ...
Here is a list of cool font for MEME (non-exhaustive)
- DONJOSE
- ALPHA_ECHO
- THEBOLDFONT
- HEADLINE
- BEBAS__
- ANTON
- ANTONIO-BOLD
- CODA-HEAVY
- TITANONE-REGULAR

And just search for the same name into the font list to change text instantly ...